Malta is abounding with spectacular views which take your breath away. So while staying on this gorgeous island, why not reside in a sea-view property? Waking up to a dazzling sea-view every day of your holiday will put you in an instant good mood, giving you a stunning backdrop for your morning coffees or evening drinks, and provide you with some serious Instagram opportunities. Take a look below at 5 of the most picturesque properties you can rent for your next vacation in Malta!
1. Amazing Valletta Harbour Views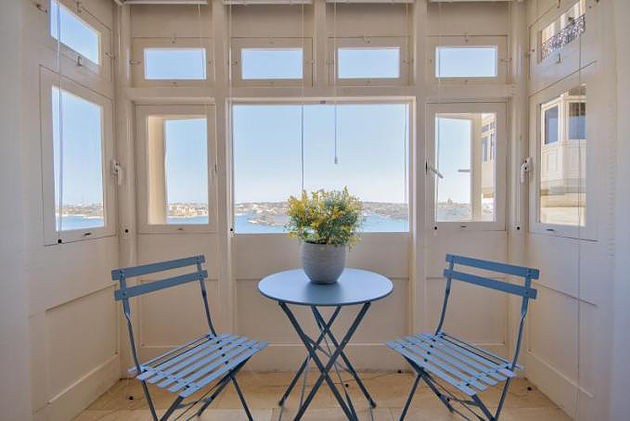 This pretty as a picture 2-bedroom apartment is located just above Victoria Gate, Valletta's old entrance, and comes with a sweeping view over the Grand Harbour. Waking up to the sunrise over Malta's most photogenic harbour is surely to put a huge grin on your face, and you can have your coffee snuggled up inside the cosy traditional Maltese balcony. This apartment is great for small groups of friends or young families who want to be close to the centre, being only 7 minutes away from Valletta's Republic Street.
2. Valletta Bastions Views Sliema Penthouse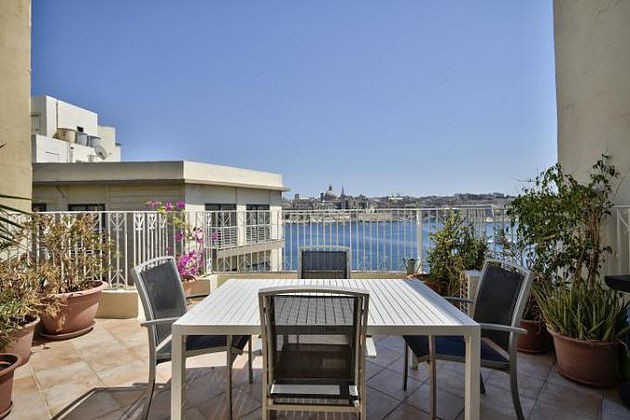 This quaint terrace screams Mediterranean holiday and is the perfect spot for some al fresco Maltese dinners. The Valletta skyline is the main feature of this sunny balcony, and it can also be seen from the main bedroom! This 2-bedroom penthouse is the ideal abode for anyone who'd like to experience Sliema without the hurried hustle and bustle that is synonymous with the town. A quiet oasis in the middle of the business district, this penthouse and its fantastic views will surely steal the show on your Instagram feed!
3. Exceptional Views St. Julian's Seafront Apartment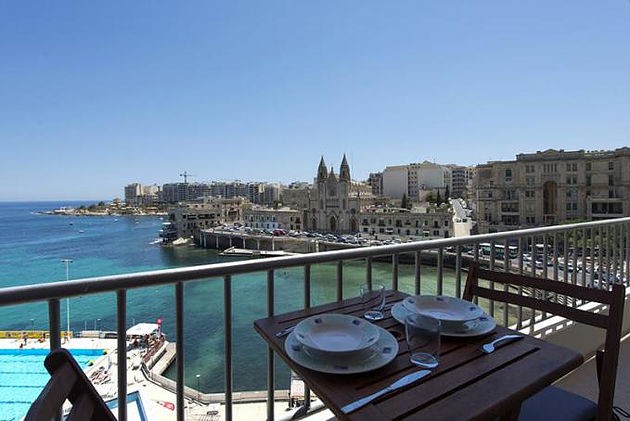 The variety of blue hues in Balluta Bay make this apartment's view seem magical and different each time. This huge 4-bedroom apartment is located on the outer part of St. Julian's, meaning you'll be within walking distance to all amenities while still being far enough to enjoy some peaceful evenings. The large terrace is the perfect place to relax after a day exploring, although the view over Balluta Bay is magical day or night.
4. Iconic Seafront 2-bedroom Penthouse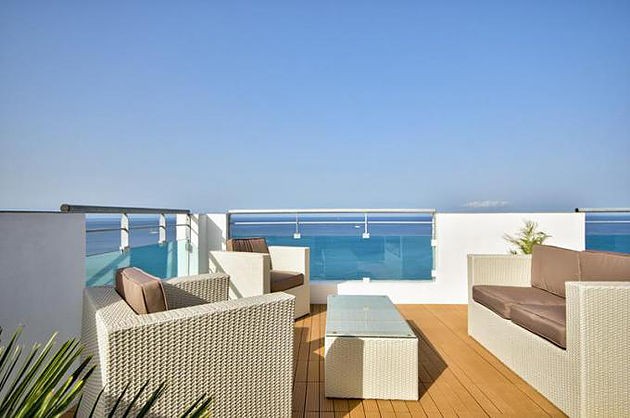 Prefer to be close to everything while still feeling like you're on a tropical island, getting away from it all? This truly iconic penthouse is ideal for you. Located high above the streets of Sliema, this relaxation haven has open sea views and pairs modern decor with light airy tones for a truly tropical feel. Having 2-bedrooms, it is the perfect property for couples or small groups of friends, and offers the perfect opportunities for selfies with the surrounding sea!
5. Astounding Views Tigne Seafront Apartment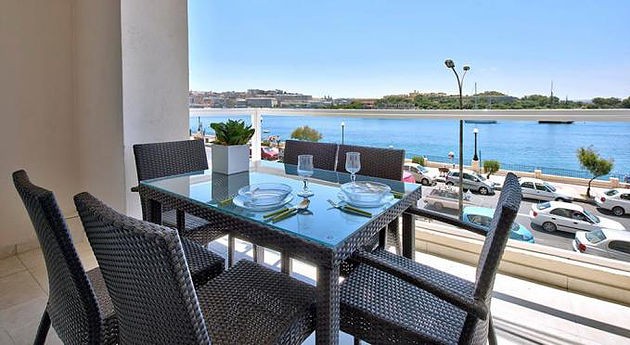 Whether you're in Malta on a business trip, with your closest colleagues, or you're here with family, this spacious, 4-bedroom Tigne beauty offers the perfect solution when visiting Malta: a super-central location with some of the best views on the island. Oh, and there's a hot tub on the seafront terrace too! So whether you're here working, or you've spent the whole day working out the best tour to take with your family or friends, this apartment is an excellent base for your stay in Malta. What better way to end the day than in a hot tub watching the sunset over the harbour?